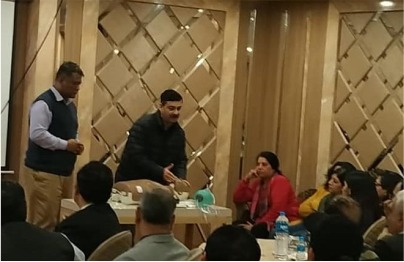 On the 21st of February, Tulip Multispeciality Hospital held a workshop on Basic Life Saving at Rang Mahal, Murthal. It has always been holding events for promoting scientific knowledge and awareness and this event was just another of it.
The event was much more than just a Basic Life Saving programme. Dr. Dhrub Kumar gave an extensive workshop on Basic Life Support and Dr. Anupama Sethi Arora threw light on the topic of Abnormal Uterine Bleeding.
Dr. Anupama Sethi Arora also presented a detailed presentation with the intricate details of hysteroscopy and Total Laparoscopic Hysterectomy; which led to an eye-opening experience.
Basic Life Support training was given by Dr. Anurag Arora and Dr. Dhrub Kumar. With the presence of prominent doctors like Dr. Anurag Arora, Dr. Dhrub Kumar, Dr. Anupama Sethi Arora, Dr. Sweta Kumari, Dr. Saurabh Pengoria, Dr. Priyanka, Dr. Arun, Dr. Ravi Shankar, Nima secretary Dr. Sanjay Sehra and Nima president Dr. Kasmiri Lal; the event was an evening of discussions; throwing light on fields that are of great importance.
In the end, the Programme was followed by a delicious dinner and cocktails